Your new kitchen
Cabinets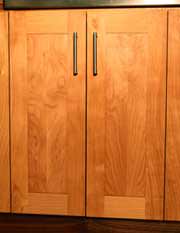 We make our cabinets from Clear Pine or Lawson Cypress timber. This means that you now have a piece of furniture rather than a plastic box.
The finish still allows for the cabinet to be wiped out with a damp cloth. A side effect of using solid timber: it is environmentally friendly in the production process and afterwards.
Doors
The overall look of a kitchen is affected mainly by the doors. Choosing the right timber and style is very important. We have a wide range to choose from. We can custom make the doors also.
An advantage we have over factory produced doors is that our handcraft approach allows us to match the timbers, thus achieving an overall harmony. For example: we make our door panels by "book-matching" the timber. This means a thick piece of wood is band sawn through and opened up like a book. The 2 pieces are glued together to form the panel.
We join the door with proper timber joins making them very strong. We do not use veneer on our door panels. They are made of solid timber.
Drawers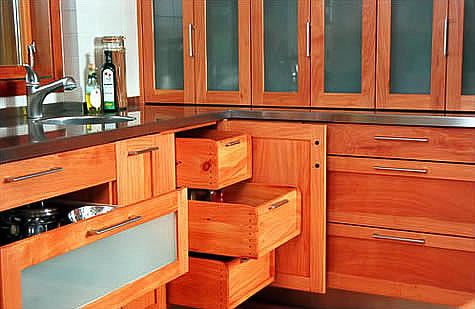 The inside part of the drawer is made from a light coloured timber, and the drawer fronts are made to match the doors. Our high quality ball-bearing runners allow for smooth running and soft closing of the drawers.
Alteratively we use 'Blum' steel-sided drawers with different finishes. A whole system of inserts and dividers is available for them.
Bench Tops
We offer the following options:
Plantation grown eucalyptus. The timber is very hard and dense, and combined with our industrial oil finish gives an extremely attractive and durable top. Alteratively we use classic timbers like oak, beech, maple or elm.
Custom made stainless steel in a range of surface finishes.
A range of different coloured and patterned granite.
Sinks
We use New Zealand and European manufactured stainless steel sinks or alternatively, porcelain 'Butler' sinks. These sinks can either be set in our timber tops, welded into stainless tops, or sub mounted into stone tops.
Waste disposals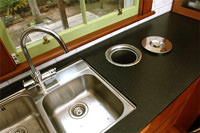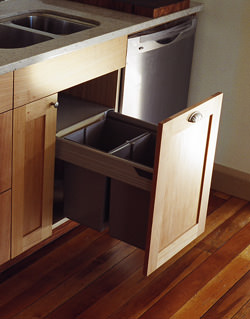 We use different 2-bin pullout systems that pull out like a drawer. The runners are covered to protect them against moisture and therefore they last much longer. We also offer different in-bench compost solutions.
Handles
We have our own unique range of handles to match the doors and timbers we are using. You can choose from a huge selection of metal, wooden and ceramic handles.